The SS contracted the "fare" for transporting the Jews to their death with the German railroad authorities: children up to 10 years of age traveled half the regular fare and those under 4 years old traveled free with their parents. The SS paid for their transportation from the funds robed from their victims.
From the end of July to the beginning of October,1942 the railroad was on repair and alternative forms of transports were found: trucks, horse drawn wagons, even forcing the Jews from local villages and towns to came by foot. Later the railroad transport resumed bringing Jews from Holland, France, the Soviet Union and other countries.
In the Hagen court proceedings against former Sobibor Nazis, Professor Wolfgang Scheffler, who served as an expert, estimated the total figure of murdered Jews at a minimum of 250,000.


---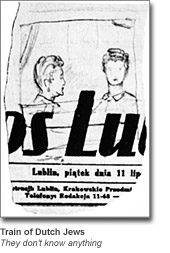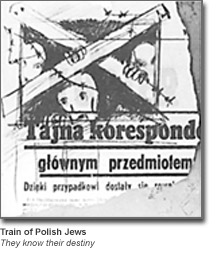 Sketches by Josef Rychter (on scraps of newspapers)
Only his name is known. He risked his life to record the Nazi crimes around Sobibor.


---
Some Verified Transports of Jews to Sobibor
Data abstracted from court documentation and other sources.
Jews from occupied Polish territories:
Year
Date
City
Number
1942
Mid-April
Krychow (labor camp)
250
May 3
Komarow
2000
May 5
Opole Lubelskie
2000
May 6
Demblin-Irena
2500
May 7
Ryki
2500
May 7
Jozefow
1270
May 8
Baranow
1500
May 8
Konskowola
1580
May 9
Markuszow
1500
May 9
Leczna
200
May 10
Michow
2500
May 12
Opole
2000
May 12
Turobin
2000
May ?
Pulawy
2500
May 12,15
Zolkiewka
1000
May 13-14
Gorzkow
2000
May 14-15
Krasnystaw
3400
May 15
Izbica
400
May 15-16
Zamosc
5000
May 18
Siedliszcze
630
May 21-23
Chelm
2300
May 23
Wlodawa
1200
May 25-30
Chelm
1500
May ?
Lysobyki
500
May ?
Wawolnica
500
May ?
Krasniczyn
?
May ?
Rudnik
?
May ?
Wysokie
1000
May ?
Cycow
?
May ?
Krasnystaw
?
June 1-2
Hrubieszow
3049
June 2
Belzec
1000
June 2
Dubienka
2670
June 6
Krasniczyn
800
June 7-9
Hrubieszow
500
June 8
Grabowiec
1200
June 10
Uchanie
1650
June 10-13
Biala Podlaska
3000
June ?
Cycow
500
June ?
Slawatycze
1000
June ?
Dubeczno
?
June ?
Olchowiec
?
June ?
Pawlow
?
June ?
Sawin
?
June ?
Krzywowierzba
?
June ?
Krasniczyn
?
June 29
Majdanek
5000
July 24
Wlodawa
hundreds of children
July (end)
Chelm
300
Aug. 10
Rejowiec
2000
Aug. 10
Zolkiewka
1000
Sept. 6
Ustrzyki
?
Sept. 8
Ryczywol
69
Oct. 1-5
Duchaczow
150
Oct. 8
Izbica
1500
Oct. 10
Rejowiec
2400
Oct. 11
Lubartow
3000
Oct. ?
Wojslowice
1200
Oct. 22
Siedliszcze
500
Oct. 22-30
Piaski and Izbica
5000
Oct. 23
Leczna
3000
Oct. 24
Wlodawa
5000
Oct. 27-28
Chelm
3000
Oct. 28
Hrubieszow
2000
Oct. 30
Wlodawa
500
Oct. ?
Belzyce and Bychawa
7000
Nov. 2
Izbica
1750
Nov. 6
Chelm
10000
Dec. 22
Staw
800
Dec. ?
Dubeczno
650
Year
Date
City
Number
1943
Jan. ?
Izbica
750
Jan. ?
Chelm
?
Feb. ?
Chelm
300
April 28
Izbica
200
April 29
Leczna
200
April 30
Wlodawa
2000
May 1-7
Wlodawa
150
May 22
Lwow
?
June 26
Belzec (death camp liquidation)
306
July 4
Lwow
?
Aug. 8
Debica
2000
Aug. 15-29
Bialystok
200
Sept. 10
Dorohucza
?
Sept. 29
Bialystok
?
Oct. 20
Treblinka (to dismantle Sobibor)
aprox100
Jews from other European countries:
Year
Date
City
Number
1942
April-June 13
Czechoslovakia
6000
April-June 30
Germany - Austria
10000
April-Oct. 20
Slovakia
24378
March 5-6
Holland
1105
March 6
France
71
March 11
France
?
March 13
Holland
964
March 26
Holland
1250
March 26
France
994
March 31
Germany
?
April 2
Holland
1255
April 9
Holland
2020
April 16
Holland
1204
April 21
Germany (Berlin)
938
April 23
Holland
1166
April 25
France
2000
April 30
Holland
1204
May 7
Holland
1187
May 14
Holland
1466
May 21
Holland
2511
May 28
Holland
2862
June 4
Holland
3006
June 8
Holland (children)
1266
June 11
Holland
3017
July 2
Holland
3397
July 9
Holland
2417
July 16
Holland
1988
July 23
Holland
2209
Sept. 18-19
Sov Union (Lida)
2700
Sept. 18-23
Sov Union (Minsk)
6000
Sept. 23-24
Sov Union (Vilno)
5000